Nowadays, Brazil is by many characterized as a "sleeping giant" when referred to its great potential to turn out to be one of the world's largest iGaming markets. And now everything indicates that 2022 is likely to become the starting point of awakening.
Brazilian Gambling Market: General Overview
The interest and propensity of the population to the gambling industry have been growing immensely for the past several years. What delays the boom is the legislation. Some forms of gambling do have clear-cut regulations, but most of them still lack established rules.
After more than five decades of gambling prohibition, increasing momentum around the need for an expanded regulatory framework has never been more robust in the National Congress.
The government of Brazil, having understood the need for legal changes in the gambling sector, started making the first steps in this direction with the issue of Provisional Measure 846/18 in December 2018 to permit fixed-odds sports betting in Brazil. It gave firstly lawmakers a two-year window, to 2020, in which to develop sports betting regulations, which was finally extended for two more years, meaning the final deadline is the end of 2022 in time for the FIFA World Cup.
In February 2022, the Chamber of Deputies approved Gaming Bill No. 442/91, which legalizes casinos, bingo, games of chance and online gaming.
According to the law, bingo operators will pay a fee of R$ 20,000 per licensed establishment. Online gaming will pay R$ 600,000 per licensed domain. Casinos, R$ 600,000 per licensed establishment, while games of chance will pay a fee of R$ 20,000 per licensed entity.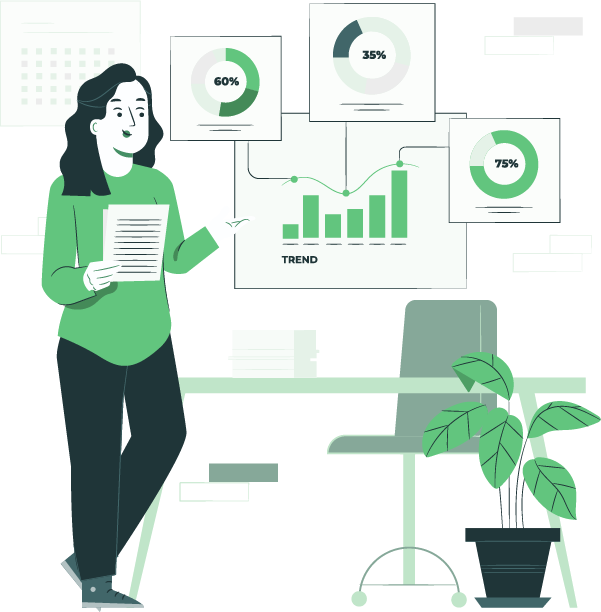 The Senate will be the next to consider the Bill, so, there is a chance for the Bill to be enacted by year-end, followed by a long regulatory review to establish rules and regulations.
Thus, legislators took a historic step towards the end of illegal gambling and creation of a regulatory framework that will generate both jobs and revenue.
The Ministry of Economy has been appointed as the gambling supervisory authority responsible for inspection of gambling and betting activities at a certain inspection fee.
Another measure to be taken is the Brazilian Supreme Court should decide whether Article 50, the general law that states gaming is illegal in public venues, is unconstitutional. The debate over this law comes into play because "grey market operators" are strongly targeting Brazil customers. An STF decision that deems Article 50 unconstitutional, will instantly legitimize the online gaming market and ultimately all gambling would be considered legal (even without regulation).
Currently the only legal forms of authorized gambling in Brazil are:
state-run lotteries offered as a type of public service
horse race betting at authorized racetracks that has been consistently regulated and legal for private operators throughout Brazilian history
skill-based games, such as poker and fantasy games which are deemed lawful.
Brazil presents countless opportunities for gaming operators to expand their operations as it is one of Latin America's biggest consumer bases with the population of over 212 million people, (the 6th largest country globally) longing for legal gambling venues.
Yet whilst the legal framework creation progress has been slow, there is a big expectancy that once regulated the local sports betting industry could develop itself into one of the most lucrative on a global stage.
The e-sports environment, a proxy for gambling, reveals that Brazil already ranks as the third-largest customer base worldwide with more than 30 million players. This shows the appetite among Brazilians for gaming entertainment and provides support for the forecasts of dramatic market expansion once gambling is legalized.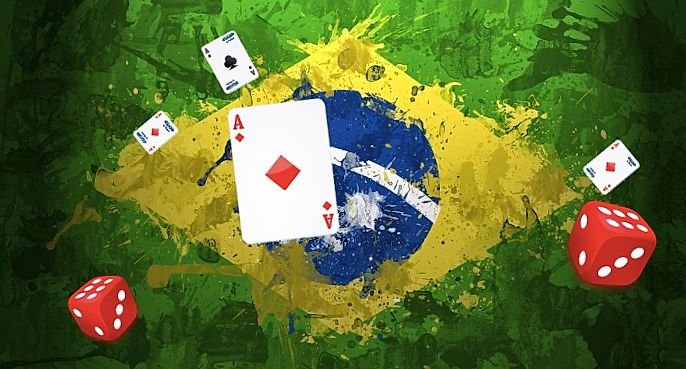 For instance, the iGaming market in Brazil generated revenue of US$2.3 billion in 2021, representing an overall 5.1% growth year-over-year. In 2022 the market is expected to grow approximately 5.3% in 2022, set to reach US$1.84 billion. The industry coverage is huge: more than 70% of Brazilians play various games online, and this sector is predicted to grow more than traditionally fast-growing music and video streaming.
The experts estimate that casinos could generate the Gross Gaming Revenue (GGR) between US$10 to US$20 billion under the current proposed legislation, which means Brazil would generate more GGR than any other jurisdiction except for the USA and Macau.
With the regulation of sports betting, the country could become one of the main markets in the world, given the size and interest of its population in sports. Should all go smoothly with the sports betting legislation by the end of 2022, the experts predict that the first full legal year of sports betting in Brazil, 2023, could reach US$720,000 in gross gaming revenue, rising to US$1 billion by 2026.
But meanwhile, the country is losing colossal amounts of revenue every year. Data analysis firm H2 Gambling Capital has released the recent statistics estimating that Brazil's gross profit from sports betting for offshore operators reached R$169.8 million (US$32 million) in 2020.
However, with a proper regulatory and tax framework, the country could see a licensed market equivalent to over R$2,390 million (US$451.73 million) in gross profit for 2024, with sports betting accounting for 95% of that market.
Furthermore, it is registered that before the COVID crisis, around 200,000 Brazilians travelled to foreign casinos to gamble every month. The city of Las Vegas alone receives about 150,000 Brazilians a year.
Brazilian Gambler's Profile
In its latest 2022 country report named "Brazil Betting Focus" BtoBet, part of Neogames Group, a leading B2B provider of sports betting software, described the profile of an average Brazilian bettor, underlining that almost 70% of the adult population of Brazil gamble.
The interesting fact is that the COVID-19 pandemic strongly affected the engagement of Brazilian people into gambling. Actually, more than half of the respondents stated that they placed their first bet upon the onset of the Covid-19 pandemic. 59% of the respondents that took part in the BtoBet study said they had started betting no more than 12 months ago, 13% – between 12 and 18 months ago, 28% admitted having been involved in betting for more than 18 months.
Among those who have already been active gamblers for years, 27% of respondents said that during the pandemic they had increased their betting activity, whilst the pandemic did not affect the betting behaviour of only 18% of the respondents.
Another interesting fact about the Brazilian gamblers is the vast majority of respondents (67%) perceive gambling as entertainment. 43% and 38% of the respondents see betting as a business and sport, respectively. And about a third of the study participants indicated gambling as an opportunity and one of the top motivators to make new friends or socialize with their current friends.
The gambling habits of 18% of the Brazilian punters account for a daily betting activity, 16% bet from 4 to 6 times per week, almost half of the respondents (48%) bet once to 3 times a week, and 18% do not show high regularity betting twice or thrice a month or less (see Pic.1).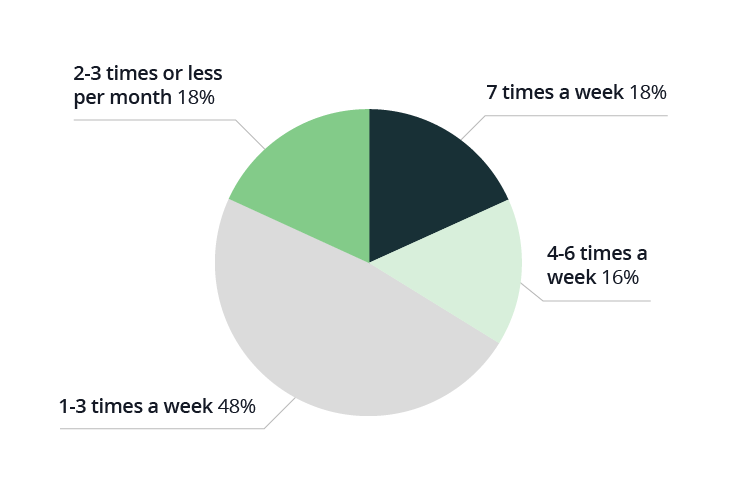 Pic.1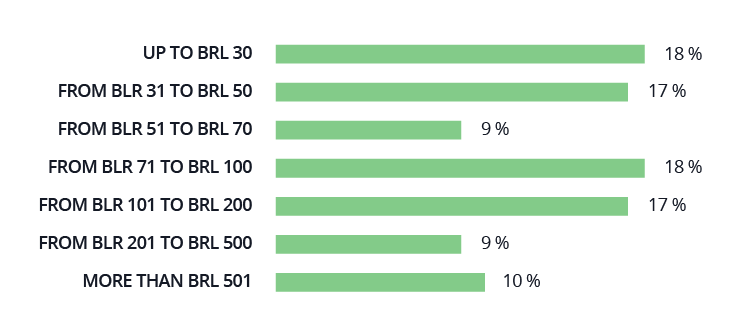 Pic.2
If we speak of the total monthly amount placed as bets on different gambling sites, we can say that over 60% of Brazilian online gamblers reported having bet an average of less than 100 Brazilian reals a month (about US$19). Only 10% of the gamblers spend on gambling more than US$95 (see Pic.2).
In terms of the spread of this monthly amount among different sites, 26% of the Brazilian gamblers have replied that they always bet on one and the same site, 33% have reported that they gamble at two sites, 29% bet on 3 to 5 different sites, and 12% bet on 6 and more sites.
Among the favourite types of bets turned out to be single bets as indicated by 55% of the respondents, multiples are preferred by 42% of the gamblers and doubles are loved by 36% of the bettors.
The most important factors to choose this or that site, as stated by the respondents, are the payout speed, good bonuses, availability of various payment methods, the best odds, and large libraries of games and sports available.
What Brazilian Gamblers Prefer: Sports Betting vs. Online Casino
As we have already mentioned the vast majority of gambling sites in Brazil are operating from overseas due to the lack of proper legal framework within the country.
These sites offer sports betting and online casino options. But what do Brazilians care for more: sports betting or online casinos? Let's see.
Using special tools, we have checked which of the two keywords has a bigger search volume among various search engines.
The 'cassino online' (online casino) has shown exponential growth in the first half of 2022 (1H 2022) as compared to the 2H 2021. The search volume among the population increased by unbelievable 311% demonstrating the total search volume of 18,100 which reached 27,100 searches in June 2022 (see Pic.3).

Pic.3
The other keyword 'apostas esportivas' (sports betting) has not grown that much during 1H 2022 showing only a 50% increase as compared to 2H 2021 period.
Though speaking of the absolute numbers of the total search volume, we can say that the two search volumes differ significantly. The 'sports betting' total search volume is 4 times as much as 'online casino' demonstrating almost the same ups and downs in search amounts by months.
The 1H 2022 highest number of searches was detected in April and May and estimated at 90,500 (see Pic.4) most probably due to the promised approval of Legal Gambling Framework Act scheduled for May which did not happen at the end and was once again postponed till the end of 2022.
Actually, such difference in total search volumes is quite understandable, given that the preferred sport the Brazilians bet on is football.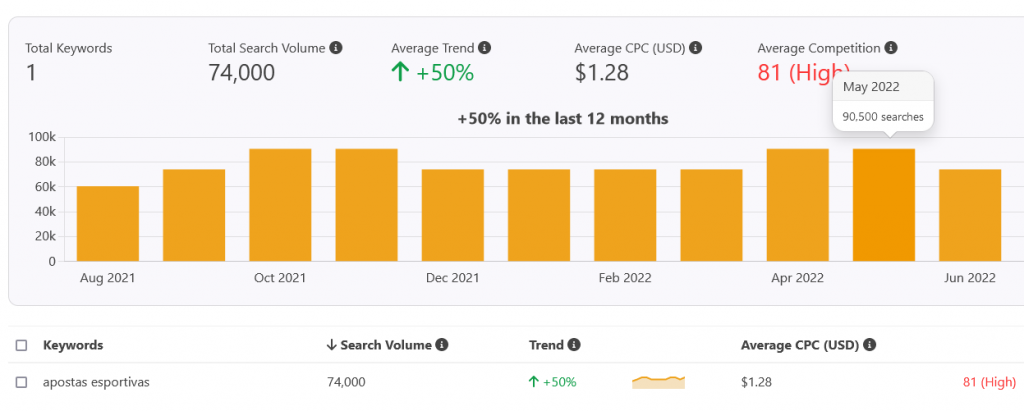 Pic.4
The higher search interest in 'sports betting' in 1H 2022 is also confirmed by the Google Trends data. In 1H 2022 the public's interest in sports betting overpassed online casinos by far: 'apostas esportivas' term was searched almost 4 times as much as 'cassino online' demonstrating the popularity score of 54 against 14 (see Pic.5).
What could explain such a popularity of sports betting as compared to online casinos? We suppose that first of all, the reason is the legislation. The ruling in this field of online gambling started in 2018 via Law No. 13,756/2018, which introduced fixed-odds sports betting as a certain form of lottery, allowing fixed-odds sports betting to be offered by land-based and online operators and though leaving behind the operators located outside the country.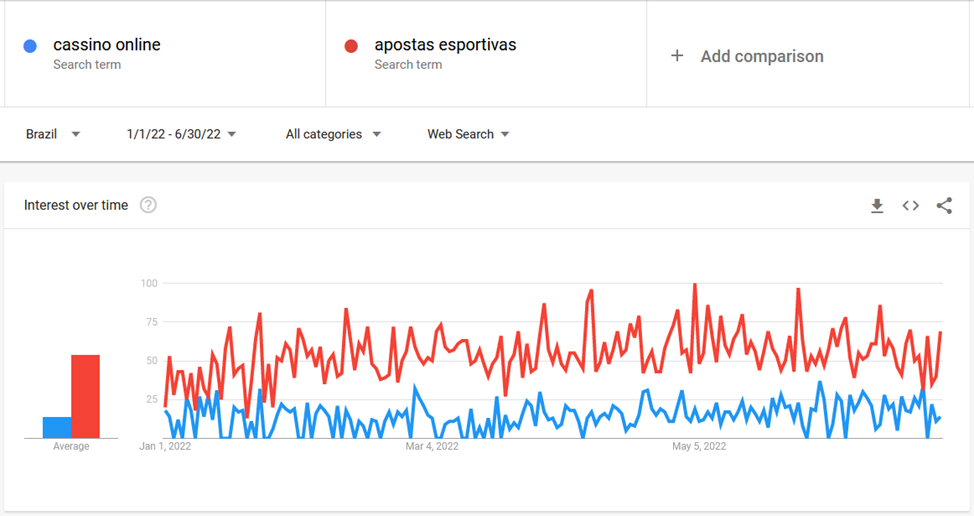 Pic.5 The data for 1H 2022
However, this law is still to be finally specified until the end of 2022, it gives some sort of safety and protection feeling to the gamblers, most of whom (58%) stand for the soonest legalization of the entire gambling sector.
So, online casino operators being still absolutely illegal in the country delay to come to the Brazilian market while sports betting operators rush in to capture their niche of a soon-legal market placing their advertisements everywhere.
The thing is only lottery advertisements are banned in Brazil. Since other gambling modalities are not regulated there are no advertising restrictions on them.
Moreover, those sports betting operators flooding the Brazilian market have completed their sites with the Portuguese language which is a great advantage given that only 5.1% of the population of Brazil aged over 16 state that they have some knowledge of the English language.

Pic.6 The data for 1H 2022
Speaking of the interest spread by the states, we can see that the audience most interested in online casinos lives in the smallest-by-territory state of Brazil, Sergipe. The inhabitants of the state search more for 'cassino online' than for 'apostas esportivas': 58% against 42%, respectively (see Pic.6).
Interesting enough is that this interest in online casinos of Sergipe's population only increased in 1H2022 as compared to the same period of 2021 (see Pic.7) when sports betting still prevailed with its 55% against 45% of searches for online casino.
What could be the reason for such an increase of interest in online casinos in Sergipe? Probably, it might be explained by February's news published by iGaming Brazil that PixBet has recently signed a partnership agreement with Confiança, Lagarto and Sergipe, traditional football clubs from Sergipe. And this platform now being commercialized all over the state offers really good casino and live casino services.

Pic.7 The data for 1H 2021

Pic.8 The data for 1H 2022
The only state with no search for online casinos in 1H 2022 turned out to be Tocantins, the 4th smallest (by the population) state of Brazil with the inhabitants of about 1.6 million who are 100% interested in sports betting (see Pic.8).
Sports and Competitions Mostly Bet On
The above-mentioned study conducted by BtoBet also reports that the football is by far the most popular sport to bet on in Brazil, which is no surprise, of course. Eight out of ten study participants reported their preference to bet on that sport.
Basketball received the love of one-third of the gamblers with 33% of total answers, followed by eSports with – 29% the figure that makes Brazil the third country with the most eSports enthusiasts, following the United States and China.
MMA and volleyball are usually chosen by 23% of the bettors. The equal number of 21% received horse racing, boxing and American football, whilst tennis turned out to be the least favourite sport for betting with its 19%. (see Pic.9)
The study also demonstrates that the National Championship, the local football leagues, followed by the Libertadores Cup and the Cup of Brazil, receive the most bets as compared to other leagues, competitions, or sports events.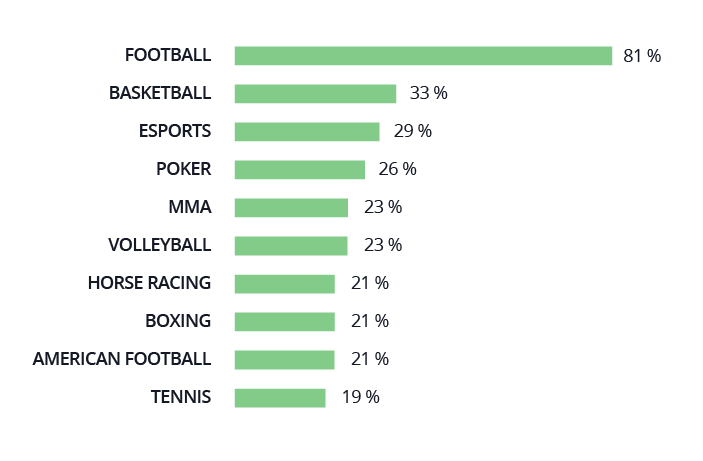 Pic.9
Preferred Online Casino Games
Although, as we stated above, Brazil's gambling legal framework is far from being clear-cut, and the activity of gambling platforms is, in fact, unregulated, the statistical information says that Brazilian players spend over US$1 billion at online casinos annually.
Some core aspects of a casino online valued by gamblers in Brazil include SSL security, positive reviews from reliable reviewing websites, established partnerships with credible payment brands and software providers, a license from a trusted regulatory authority.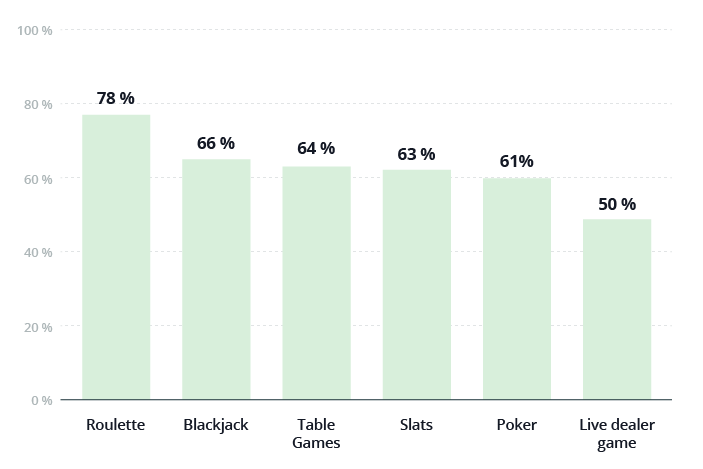 Pic.10
Thus, according to the Statista.com data, the game of roulette is the most favourite online casino game in Brazil. Nearly eight out of ten respondents (78%) in the biggest South American country choose that game as the preferred one.
Blackjack is also highly popular as indicated by 66% of the respondents. 64% of the study participants said they play table games, slots received 63% of the gamblers' choices, video poker accounted for 61% of the total votes, whilst a rather significant number of gamblers (50%) stated that they play live dealer games (see Pic.10)
Mobile Gaming in Brazil
Brazil's gaming market is constantly growing. New data from data.ai confirms Brazil's mobile app market is booming in LATAM, a region 'ripe for growth on mobile'.
Thus, 2021 saw 4.5 billion gaming app downloads with over US$571 million spent via apps which represents the growth of 22% in similar downloads as compared to the previous years.
Overall, Brazil saw over 10.3 billion apps downloaded in 2021 within such categories as entertainment, gaming and finance, which account for a 30% increase from pre-pandemic levels. Brazil has seen phenomenal growth in consumer spending, adding extra $1.13 billion in 2021, which is $200 million more than in 2020.
The reason for such significant growth can be easily explained: with the country's population of over 212 million registered in 2021, the mobile connectivity amounted to 205.4 million connections accounting for 96.3% of the total population. 98.5% of internet users aged 16 to 64 hold smartphones, 71.6% own laptops or desktop computers, and 32.6% mainly use their tablets.
Brazil is characterized by a very high level of the daily time spent on the Internet. With its 10 hours 8 minutes per day the country stands way far from any European country, such as Germany, for instance, with its daily 3 hours and 26 minutes.
Mobile internet penetration rate registered in Brazil amounts to 96.1% of the total internet users.
Furthermore, Brazil leads in daily mobile usage worldwide with 5 hours 17 minutes spent, evidently, thanks to the improvement of the mobile internet average speed and fixed internet connections. From 29.26 MBPS in 2020, the average mobile internet speed grew up to 78.10 MBPS in 2021 registering a significant increase.
Since the COVID-19 pandemic, Brazilians have been relying more and more on their mobile phones for their shopping, financial needs, gaming, and leisure.
The growth of internet-connected mobile devices available in the Brazilian market and thus owned by Brazilians and used for mobile gaming has given freedom to the players to place bets from whatever place or time even on the go.
High penetration and ownership of internet devices and mobile phones are driving the growth of the mobile device segment in the online gambling market of Brazil. Marketing through mobile advertising provides the most effective communication mode with a higher market penetration attracting a huge customer base of smartphone holders to online casino games, eSports betting, etc.
New iGaming Trends in Brazil
eSports
As mentioned above, Brazil turns out to be the third largest esports fan base in the world (following China and the USA) with almost 30 million Brazilians as eSports fans in this or that capacity. Given this fact, Brazil's appeal for eSports betting, in particular, is also increasing tremendously.
Fantasy Sports
Fantasy sports are skill-based games that have gained a lot of popularity in the country. Fantasy sports are online prediction games where you gather a virtual team of real sports players. You earn points based on real life statistics which are afterwards converted into 'fantasy points'.
CartolaFC, the fantasy sports platform operated by TV Globo, the largest TV network in Brazil, has over 5 million free subscribers and more than 400,000 paying users (at R$54.90 each), with revenues over R$16 million, after it received an authorization from SECAP to draw prizes.
Social Gaming
A social game is a structured activity which has contextual rules through which users engage with one another. Social games are multiplayer enabling people to interact with each other during gameplay via messaging and integrated social media.
With over 90% of Brazilians being mobile internet users, and, on average, spending over 5.4 hours on the internet each day on their mobile devices, Brazil is the third highest mobile-internet-usage country in the world, following Thailand and the Philippines. Given the online payment methods are becoming more and more accessible, all these factors create a very attractive environment for the growth of social games.
The Prospects of the Gaming Market in Brazil
Local authorities and gambling experts have been backing the proper legalization of gambling in Brazil via clear-cut regulations seeing new growth opportunities for the market which have recently opened due to:
the ongoing technological advances including artificial intelligence and machine learning tools help understand the consumer preferences
concepts of Virtual Reality and Augmented Reality being introduced by numerous online gambling companies to provide an enhanced gaming experience
improvement of the payment methods including the integration of blockchain technology in the online gambling business
increasing investments in the online gambling market
favourable legislation changes of previous years.
No doubt, Brazil's potential is enormous. The huge population with its massive participation in social networks, digital consumption and passion for gambling make Brazil a future paradise for investors, software providers, gambling operators. The only thing is lacking are legal aspects. Legalization of gambling is advocated for by many officials in the country.
Thus, Magnho José, president of the Brazilian Institute of Legal Gambling, said, "It is time for the government to legalize gambling to strengthen the economy, generate employment and fight against poor labour conditions, the illegal market and money laundering."
A look into the future indicates that the Brazilian government could receive money from both taxes and licence fees to perform the programmes that have been postponed for years.
Once the legal aspects are tackled, Brazil will have to create a system to protect the market and implement a systematic monitoring system in order to prevent a large number of foreign operators from entering the country in an endeavour to capture market share. As projected, all gambling licences will be granted by the Ministry of Economy, the sector regulator.
Moreover, the launch of legal sports betting will allow Brazil to raise awareness and offer solutions to problem gamblers.
Another crucial issue about gambling legalization, casinos in particular, is that it will stimulate the tourism sector. Tourism Minister Marcelo Álvaro Antônio explained that he has a proposal to authorize integrated resorts equipped with casinos.
José Calisto, president of the Association of Hotel Employees and Similar of Rio de Janeiro (AEHSRJ), commented "It is very important to legalize casinos in Brazil, even if, at first, it is only approved in resorts and, in a second phase, expand to the rest of the tourist spots and other spaces. Today there are casinos and bingos distributed all over Brazil in a clandestine manner. If they were legalized, there would be job and income generation". The official estimates that 300,000 direct jobs (and a similar number of indirect jobs) would be created in the hospitality sector if casinos or resorts were legalized.
Deputy João Carlos Bacelar Batista, coordinator of the parliamentary group for the approval of the regulatory framework for gambling, believes that the government should legalize all the gambling sectors given the gambling, online gambling in particular, could save Brazil from its current financial crisis and recovery of the economy after the pandemic.
The numbers presented in this 1H 2022 report justify the advocates of legalization. It is just a matter of a short while before the world starts immensely investing in Brazil's gambling sector and this market expands exponentially.