Mexican Gambling Market: Overview
Having a population of nearly 130 million people and a high mobile penetration of approximately 80%, Mexico, the second biggest economy in Latin America, is viewed to become a serious player in the worldwide online gambling industry.
The Mexico gambling market has been growing significantly for the past years due to the change in lifestyle and improvement of the purchasing power of Mexican people.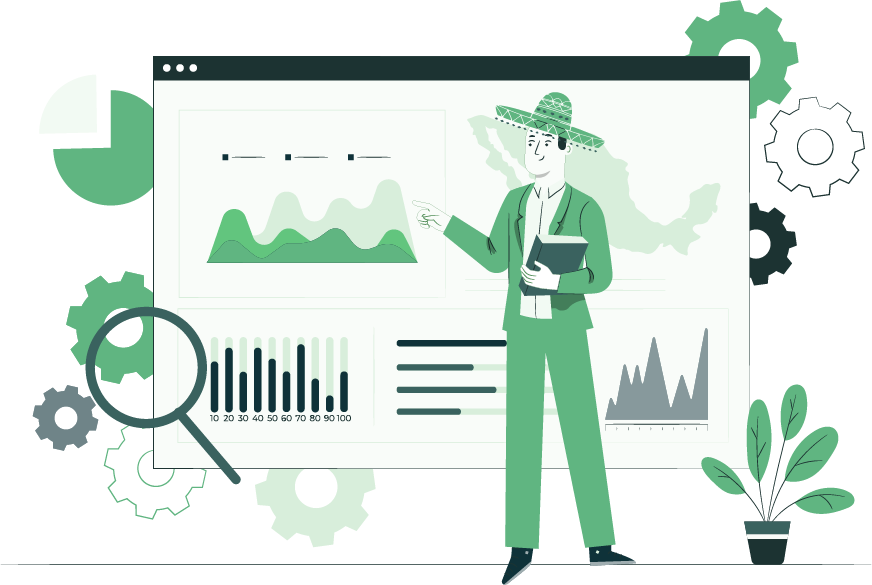 After the regulation attempt of online gambling in Mexico, began in 2014, the market went from a turnover of US$24 million to US$441 million in 2018 (up by 1,533%), reaching US$798 million by early 2020 – an incredible 2908% increase, and it is not going to stop growing in the future.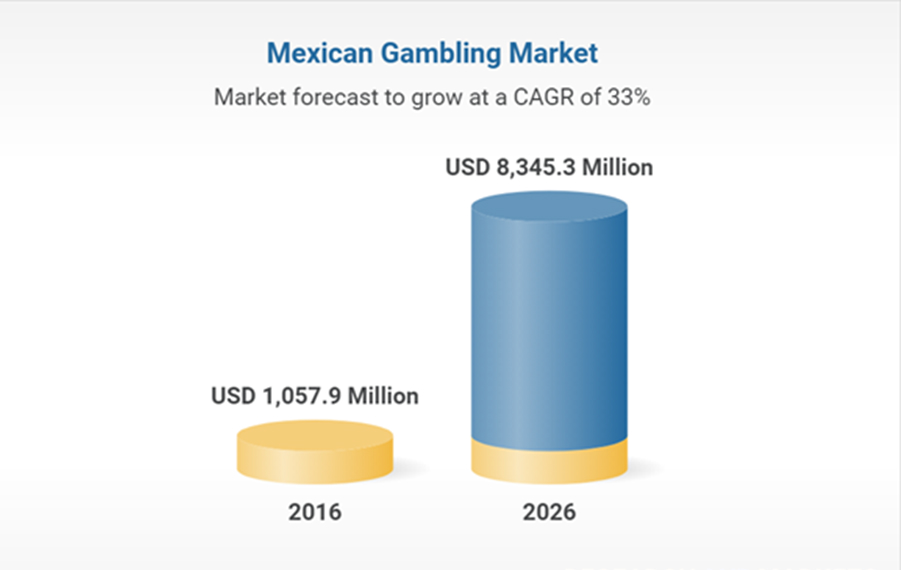 Pic.1
According to the most recent research conducted by Research and Markets, by 2026 the Mexican gambling market is expected to grow demonstrating a CAGR (Compound Annual Growth Rate) of 33% as compared to 2016 (see Pic.1)
One of the Vixio Regulatory Intelligence research agency's reports states that the Latin American region is one of the most important emerging markets for the online gaming industry. The most competitive Latin American nations for online gambling are Brazil, Argentina, and Colombia with Mexico being very strong in its steady market growth.
According to a Satista.com study published in April 2022 on Estimated Online GGR in Latin America, the online gross gaming revenue (GGR) in Mexico is expected to increase substantially until 2026 reaching its maximum of US$1.15 billion (see Pic.2).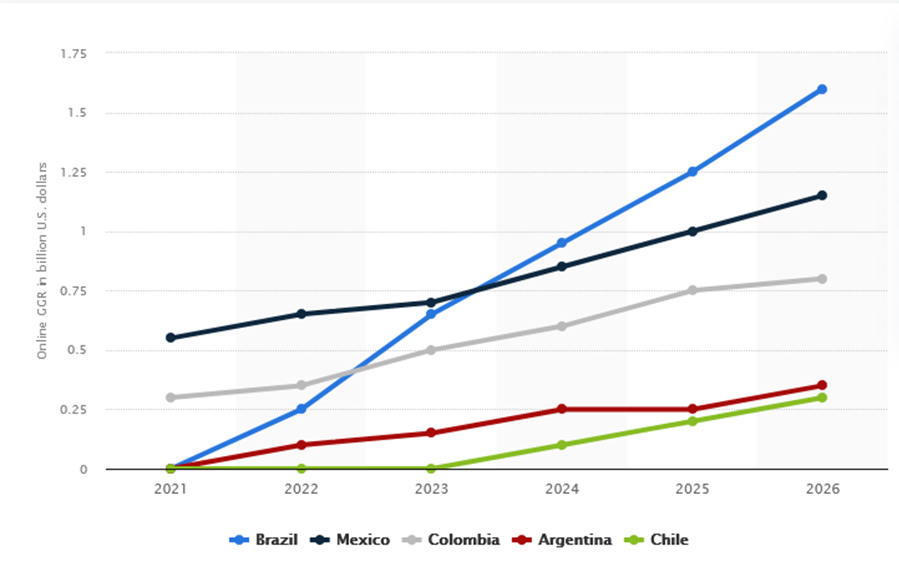 Pic.2
By product type, the current gambling market in Mexico is segmented into sports betting, casino, lottery and others. The casino segment has been dominating the market and is estimated to keep growing in the future.
By channel type, the gambling market is segmented into online and land based. The land-based segment was dominating the market but showed a significant decrease during the pandemic years, while the online segment keeps registering the maximum growth.
The online gambling channel's growth of recent years has been ensured by:
COVID-19 pandemic that resulted in the appearance of online gambling platforms aiming to meet the needs of customers who could not leave their houses during the lockdowns and started using online gambling sites as a leisure activity;
an increasing usage of smartphones with convenient apps and rising spread of the internet providing easy access to online gambling platforms;
an increasing digitalization allowing secure digital payment options including cryptocurrency provided by gambling platforms;
technology development, innovations resulting in better graphics and interface quality.
According to Statista.com as of January 2020, the annual revenue generated by online gambling in Mexico was evaluated at US$2 billion. As for online sports betting, it is estimated that 80% of bets were made through unregulated networks.
The total revenue of 2022 in the casino games segment is forecast to reach US$20.98 million as boosted by advertising with the projected 2022 revenue of US$6.40 million.
The estimated annual total revenue growth rate (CAGR 2022-2026) of 8.57% is expected to result in a forecast market volume of US$29.15m by 2026.
In-app purchase revenue of 2022 in the casino games segment is expected to be equal to US$14.38 million.
Paid app revenue of 2022 in the casino games segment is expected to reach US$0.20 million.
The Background of the Mexican Gambling Legal Framework
Mexico is ranked among the countries with a huge gambling potential where the gambling industry has not yet developed in full blast due to the lack of fundamental legislation.
A significant contributor to the state budget, the sector gives annual US$300 million in tax revenue, employing a significant number of people. The Q1 2022 statistics say that 'Casinos, Lotteries and Other Gaming' employed the population of about 10k persons, 41% male and 59% female, with the average monthly wage reported of $3.56k MX.
In order to create a strong and stable base for those operating in the extremely lucrative industry, a well-projected legal framework is needed.
The Mexican gambling history started back at the time of the Aztecs and has been part of the country's culture since the 19th century after the French colonization attempt. In those years all the regions of the country had French-style casinos.
In the 1920s, it happened so that the gambling in the USA was banned, making Americans start looking for other locations overseas, and Mexico became the proper place for the gambling business which did not last long, though. In 1935, gambling was outlawed which resulted in flourishing of underground gambling clubs.
Gambling was brought back to life only in 1947 by the federal law that gave the General Directorate of Games and Drawings the power to manage, authorize and control wagering games and lotteries.
In the early 90s, Mexico saw the period of discussions on the full legalization of gambling just after in 1989, Caliente company was granted permission to accept sports betting. The main supporters of legalization were representatives of the tourism business in hope to attract gambling guests and create new jobs.
At the start of the 21st century the Mexican government finally admitted the fact that the legislation had long stopped being effective and in 2004 finally eased the gaming laws. From that time on, gambling in Mexico falls under the control of the Secretaría de Gobernacion, or Ministry of the Interior.
According to the 2004 law, gambling is considered to be a legal industry in Mexico, controlled by the state as far as organization, promotion, and regulation is concerned. However, it turned out that it is not that easy to take control over these activities and, for instance, by now one third of the estimated 100,000 slot machines installed across the country are not certified. And gaming operators are not willing to become transparent in regard to their machines due to 'legal holes' in the legislation.
The 2004 regulation made the Internet gambling also permissible and online operators obliged to have a license, whereas relieving B2B providers from getting a separate gaming license.
Currently, there are almost 400 gambling licensees in the country supervised by the official gambling body, the Secretaría de Gobernación (SODG).
With the issue of the fist small number of online licences, the online gambling blossomed but not for Mexican citizens who were banned from taking part in it. However, overseas bookmakers were not blocked from offering services to Mexicans and since the country shares the Spanish language with lots of Latin American states, the online gamblers in Mexico were actually spoiled for choice, with over 470 websites accepting them.
In 2014-2015, the government prepared a new law, not much supporting those who like to play in online casinos, actually. The essence of this law was that Mexican players were deprived of an access to all Internet resources that were foreign based. Under this law, gambling is allowed in the country in gambling establishments located only on the Mexican servers.
New updated gambling legislation was set to be published in 2018 and was expected to have a positive impact on Mexico's gambling scene. However, the law has not yet been finally amended and the new date is not clearly set. The postponed law clarification would help address the underground operations by introducing a strong protection against money laundering and rising the gambling minimum age from 18 to 21.
So, the country lacks specific legal regulations that can be applied to online gambling platforms offered by foreign operators. More legislative work is required from the government when it comes to online casinos, as even a sheer legal definition of what online gambling still needs to be outlined in the Mexican law.
The industry experts believe that once Mexico's fundamental legislation revamp happens after years of delays, it will create a solid platform for the sector's growth.
The updated legislation would undoubtedly strengthen the oversight of the regulator, create a more transparent market, open doors for new operators, whilst promoting a healthier interaction among players, operators, suppliers and authorities.
Meanwhile, despite anything, online gambling continues to grow and games at online casinos are gaining popularity and dominance in the Mexican society and economy winning over the traditionally popular sports betting.
Online Casino vs. Sports Betting
As it was shown above, Mexico is one of the countries in Latin America with the highest number of users of online gambling sites and casinos. And this number is still to grow.
Online gambling includes two important types: sports betting and online casinos with the latter to become mostly sought by Mexicans taking the top spot from sports betting in recent years.
To prove this fact, we have analyzed the search volume for the two terms "online casino" (casino online) and "sports betting" (apuestas deportivas) in Mexico for 1H2022 as compared to 2H2021.
We can say that 'casino online' showed the growth of 22% in the last 12 months (from 2H2021 through 1H2022) with June reaching the year-highest value of 27,100 searches (see Pic.3).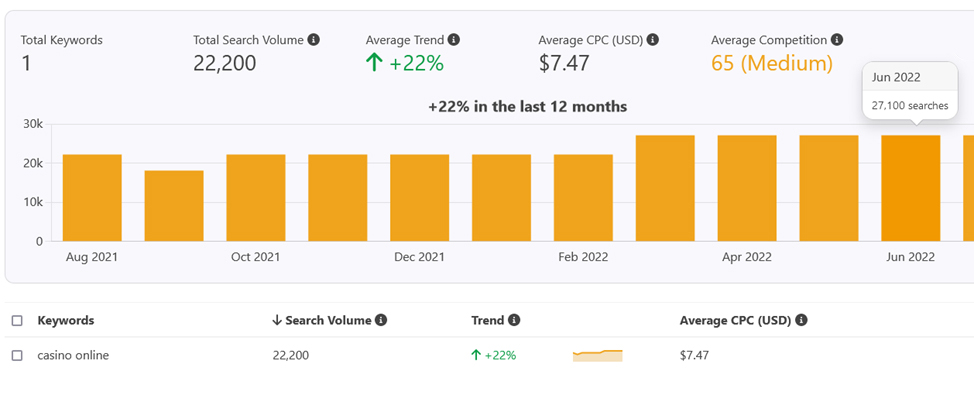 Pic.3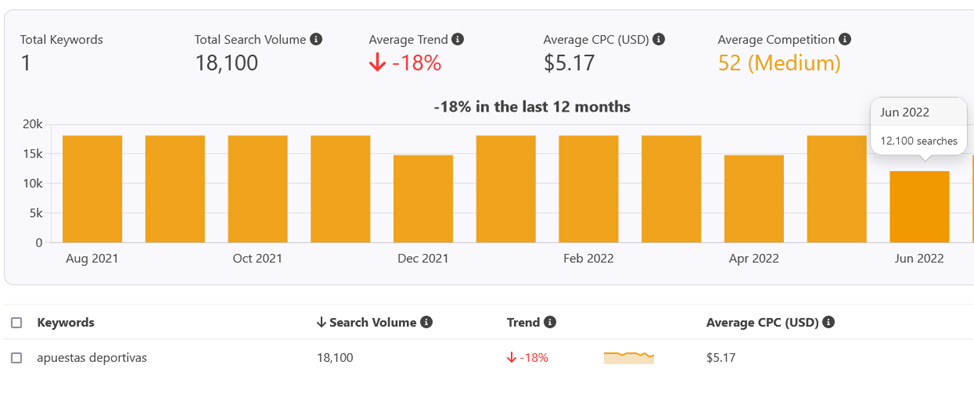 Pic.4
The need for the "apuestas deportivas" term search, on the contrary, decreased by 18% during the period from 2H2021 through 1H2022 with June representing the lowest figure of 12,100 searches as demonstrated by the search analysis tool data (see Pic.4).
To support this data with more evidence, we addressed Google Trends to see the change of the Mexican population's interest in "casino online" vs. "apuestas deportivas" by comparing the same 1H periods of 2021 and 2022.
And we can say, the trend for the increase of interest in online casinos as compared to sports betting has become even more evident. The 1H2021 interest score for the term 'online casino' equal to 28 grew in 2H2022 demonstrating the figure of 38. While 'sports betting' term interest score lost several points for the compared periods (see Pic. 5 and Pic.6).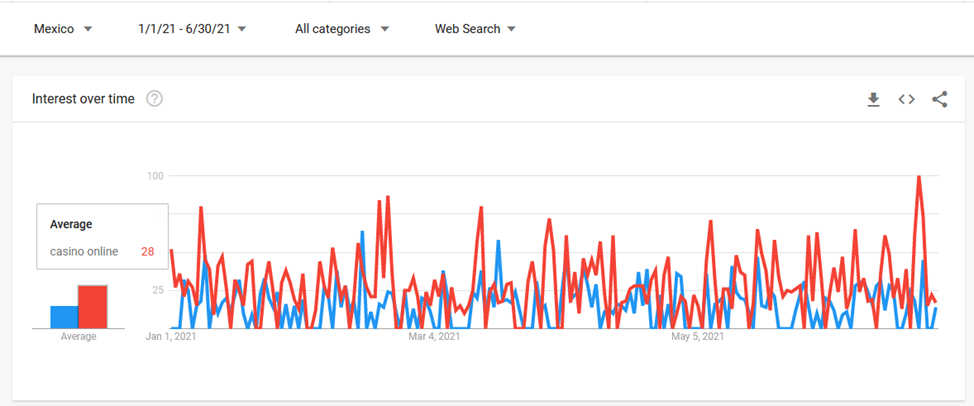 Pic.5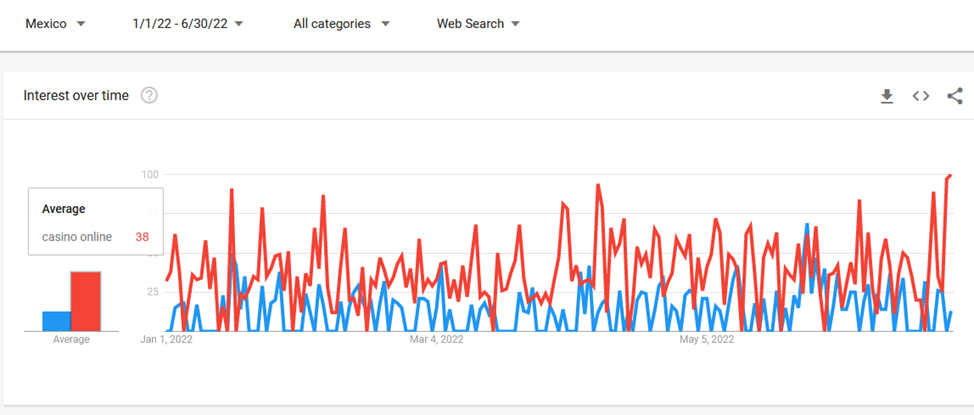 Pic.6
The maximum interest in sports betting in 1H2022 was shown by the residents of the state of Querétaro accounting for 78% of all 2 terms searches (see Pic.7).
Such an interest can be most probably explained by the fact that this rather small state has its own football team playing for the Mexican Premier League which is broadly supported by the local football fans making bets on their favourite.

Pic.7
As for the online casino term search, the highest 100% interest (with no searches for sports betting at all) was shown in 1H2022 by 9 small and medium (based on the population) Mexican states which account for almost 30% of the total number of state in Mexico: Oaxaca, Hidalgo, Chiapas, Zacatecas, Nayarit, Tabasco, Durango, Guerrero and the least populated Baja California Sur.
Definitely, the residents of these states were overwhelmed with the interest in online casinos thanks to the influx of new foreign providers in the gambling market of Mexico.
Thus, 2021 and 2022 saw Betsson and Big Bola Casinos partnering to launch Betsson Mexico. This event was followed by bet365 launching in Mexico as well after their partnering with the local TV Azteca conglomerate. The most recent appearance in the market was RSI's RushBet brand launched in partnership with Mexico's Grupo Multimedios.
And it is not an exhaustive list, we can say that the industry is just picking up speed. According to the industry analysts, the online casino segment is expected to continue dominating the market in the future due to an availability of various gambling options under one platform, in particular.
Gambling Preferences of Mexicans
The online gambling industry has been developing successfully all over the world, and Mexico is not an exception. Its citizens love all kinds of online games of chance.
The survey of the Instituto de Investigaciones Jurídicas de la Universidad Autónoma de México states that:
39.9% of the Mexican public gamble
50.5% are men
35.8% focus on a single game
The gamblers' ages range from 18 to 50, with 66% of them saying they prefer to gamble at home in order to relax.
Online Casino Games
Due to federal law amendments of 2014-2015 Mexico saw appearance of online casinos and several operators got licensed. A lot of foreign online casino platforms still operate inside the country without a permit from SEGOB as this is still left unregulated by law. So, such platforms, more and more invading Mexico, are happy to accept Mexican gamblers, as not prohibited by law to do so.
Mexican gamblers have strong preferences when it comes to playing at online casinos for real money. The most popular type of gambling, both land-based and online, are slot machines. Video slot games with Mexican and South American themes are popular as well.
Other online casino entertainment options that daily draw the attention of Mexicans are (listed in the descending order of interest):
Bingo
Blackjack
Roulette
Poker
Baccarat
live games, particularly blackjack and roulette.
Favourite Sports That Mexicans Bet On
Sports betting competes with online casinos in the level of excitement it arouses among players with football, obviously, being first and foremost sport to bet on.
Other active gambling markets within Mexico are:
basketball
motor racing
baseball
tennis
American football
boxing
ice hockey
The most popular competitions that Mexicans bet on include:
Mexico's Primera Liga
Champions League
English Premier League,
German Bundesliga, and
Spanish La Liga.
Mexican Baseball League
Major League Baseball.
The most attractive markets to bet on are the winner, the winning round/set, the first scoring team, and the match result.
Lotteries
Lotteries are totally regulated by law and supervised by the Mexican government. Both online and offline versions of lottery are taking their place in Mexico and becoming popular on a large scale.
With its continuous year-on-year growth, the Mexican gambling industry has made room for various lotteries totally enjoyed by the country's gamblers. In fact, the industry is so huge that some prizes have even been known to exceed €100 million.
Offline Betting
If we speak about land-based gambling sector, horse racing, greyhound racing and super-fast ball game Jai Alai are all popular offline sports betting in Mexico, with blood sports still attracting huge crowds.
Thus, cockfighting, a blood sport in which two roosters especially bred for aggression are placed beak to beak in a small area and encouraged to fight to the death, can in particular boast of a strong following, with the modern version of it when steel blades are fastened to the rooster' feet to turn them into something like the poultry version of X-Men's Wolverine.
Although this activity is technically illegal and so not included in official sports books, its popularity means that both the sport itself and the informal betting between audience members are typically ignored by legal authorities.
Equally violent, bullfighting, once upon a time brought to Mexico by the Spaniards, nowadays seeking to ban the sport in their home country, still thrives in Mexico. Mexico City hosts the largest bullfighting ring in the world, named Plaza Mexico, with the capacity of 55,000 rivalling many football stadiums. All bullfighting takes place between November and April, and many Mexicans like to bet on the winner of those fights.
Traditional offline betting rooms with slot machines, poker, blackjack, are also popular, but the law forbids locals to take part in them, meaning that these land-based activities are largely reserved for tourists coming over from America or Europe.
Mobile iGaming in Mexico
According to the Internet MX Association study, the country possesses 86.8 million Internet users, accounting for 76.3% of the population aged six and over.
The increase in internet users took an impressive jump of 10.2% in 2020, definitely, as a result of the COVID-19 pandemic, which was the highest growth observed in the last five years.
Actually, no other event before like that pandemic has ever caused the population to get so close to their smartphones or other mobile devices.
Nowadays the mobile communications sector in Latin America is valued at US$60 billion, out of which about 25% (US$15.2 billion) come from the Mexican mobile communications sector. Around 1/3 of this value results from gadget sales, while the remaining 2/3 come from service sales.
According to Statista.com, in 2021, the mobile internet penetration (the share of the total population having access to the internet via a mobile connection) in Mexico was equal to 65% and is projected to reach 70% in 2025.
In 2021, mobile phones accounted for about 53% of all web traffic in Mexico. This is 46% higher as compared to the share recorded in 2012, for instance.
In terms of operating systems, in 2021, the vast majority of mobile internet traffic came from phones and tablets operating on Android.
In 2022, over 98.5 million people in Mexico, almost 76%, accessed the internet through any kind of mobile device. In 2027, this figure is projected to amount to over 112.15 million mobile internet users, representing an increase of approximately 23 million new users from 2022.
It's clear that these statistics became an important stimulator of online entertainment consumption, in particular digital casinos.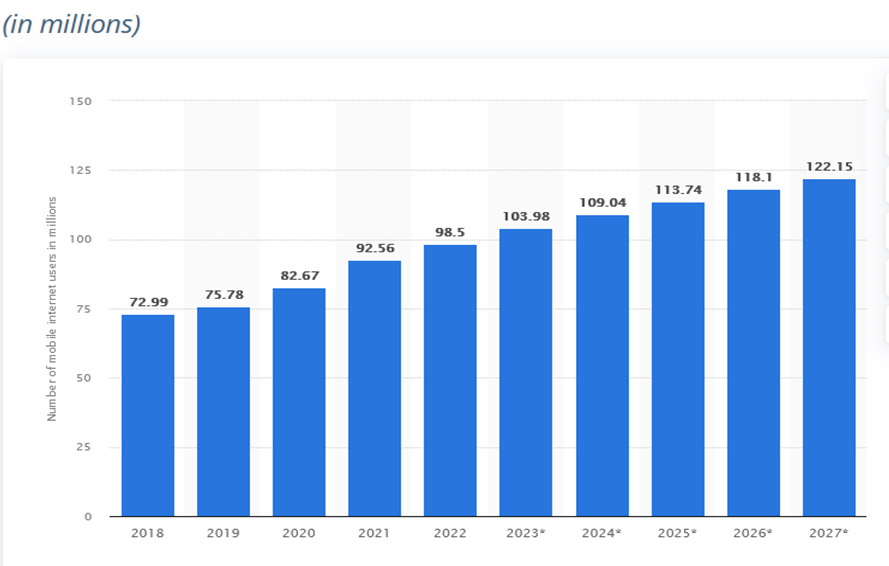 Pic.8
The Statista.com data indicates that the number of downloads in the casino games segment also saw a great impulse in the last years and it is projected to keep growing and reach 18.6m downloads by end of 2022. The average revenue per download is expected to amount to US$1.13.
In terms of subscriptions, Mexico is one of the largest mobile markets in Latin America as well, ranking second after Brazil, the region's most populated country.
Challenges and Prospects of the Mexican Gambling Market
As analysts forecast, Mexico's iGaming market is going to demonstrate a tremendous growth and Mexico will become a significant global player in the arena. It turned out to be possible due to the growth of technology adaptability, population density, and operators rushing to establish themselves before the local market reaches saturation.
However, the country's need for further clarification of law as the lines between legal and illegal gaming are still fairly blurred. This is required to secure investment or publicity from the larger gambling chains.
And there are plenty of opportunities in this field as the industry is still very much in its infancy in Mexico as compared to North America or Europe.
So, what is there still to improve? Here are some challenges the Mexican iGaming market faces:
Improved gaming experience.
Overseas operators create a great competition for local ones by providing Mexicans with high-quality digital betting platforms and online casinos. Those who will manage to integrate the advanced features into an operation will win in this competition.
So, the national sector needs to adopt a key strategy being the introduction of innovation and quality in content to improve the user experience. To do this, the dominant players have established collaboration with top-notch iGaming firms allowing them to modernize their digital architecture and increase their title library.
Staying interesting.
Online casinos are not the only online entertainment so much enjoyed by Mexicans during the pandemic years that caused the digital explosion. In post-pandemic period online casinos have the task of staying interesting as opposed to other online entertainment media for potential customers to consider remote gambling as part of their regular entertainment routine.
The sector has to continue on the path of modernization and innovation to keep and arouse interest in the audience. And although it is too early to speak about the effectiveness of virtual or augmented reality technology or such payment methods as cryptocurrencies, the idea that "futuristic casinos" will be a competitive denominator cannot be discarded.
Advertising and marketing.
Mexican operators will have to invest heavily in marketing and not by relying on billboards, radio, or word of mouth, but by embracing social media and other major digital platforms to raise awareness and demonstrate that they are authorities in the field. So, at the end of the day operators cannot but intensify their investments in research and development, advertising and marketing.
Online sector to take over the land-based one.
The land-based segment heavily shaken by the pandemic will very soon forget the years of its dominance giving in to its online counterpart. The online segment is expected to register maximum growth on account of increasing use of smartphones and rising internet penetration in the next few years with people indulging themselves more and more in the online gambling activities.
Increase in security level.
Nowadays the sector makes a strong emphasis on adding cybersecurity tools and considering a better protection of personal or banking data. The increase of confidence in the field of digital gambling among the population becomes a number-one priority as consumption is directly related to the level of security and transparency offered.
Should all these elements be joined together in a regulated way, it will ensure a new favourable scenario for the online gambling in Mexico. The post-pandemic time seems to be the best time to capitalize on the opportunities available that may pay off in the future of online gambling.
In this regard, the authorities are currently considering laws, which will make it possible to bring the gambling business out of the shadow. This would not only increase the inflow of funds in form of taxes but also provide players with the opportunity to play in Mexico's casinos without unnecessary worries and would increase the attraction of the region for tourists.