Online Gambling Regulation: Mexico 2022
The iGaming market has great potential in Latin America. Online gambling is booming in countries that have chosen to regulate it, and countries that have favorable regulations on the horizon expect to see phenomenal growth in the industry.
Mexico is actively working to change its stance on online gambling and laws are being considered for their change at the moment. The Federal Gaming and Raffles Law of 1947 and a subsequent decree from 2004 govern the current gambling system in Mexico. Despite a lack of clear regulations, licensed land-based casinos are able to offer online casino gaming and sports betting, either directly or through partners who operate websites under their licenses.
Since 2014, the National Congress has been unable to pass legislation to establish a new legal framework. The ruling political party has nonetheless declared its intent to introduce new legislation, and in March 2021, SEGOB, the Mexican Secretariat for Home Affairs, held a series of roundtable discussions on what a new legal framework should include.
It does not appear that Mexico will adopt legalized mobile sports betting or online casino gambling any time in the near future. In recent years, policies against illegal gaming have been strengthened, which has resulted in the closure of a large number of casinos that are not regulated and the revocation of permits for operating them. Despite the fact that certain projects have been given the green light, the current administration has shown little willingness to reconsider its position on the matter of new land-based casinos and sportsbooks.
The Directorate General of Games and Raffles, the country's regulatory authority, could benefit the economy if it relaxed requirements and issued more licenses for online gaming and betting, which currently generate an estimated $450 million annually, but only $50 million of which goes to legalized businesses.
Mexican Land-Based Casinos
The General Bureau of Gaming and Raffles of the Mexican Ministry of Internal Affairs oversees the legality of land-based casinos in Mexico. Brick-and-mortar casinos face somewhat more straightforward regulations than their virtual counterparts.
Due to the Catholic Church's strong influence, land-based casinos in Mexico were outlawed for many years. The gambling industry, however, was defined by a fairly stringent set of laws in 1947 that are still in effect today. The original version of this antiquated law is still technically in effect today, albeit with a number of changes.
Aside from the 2004 Gaming Regulations and a few subsequent amendments, the gambling industry is in dire need of major legislative amendment and reform. This is because numerous attempts to create a new gambling legal and regulatory framework since 2000 have failed.
A regulated casino can welcome Mexican players and tourists once an operator obtains a license from the Gambling and Raffles Bureau. Resorts, casinos, hotels, as well as bingo halls and lottery stations, are all examples of land-based casinos.
To get a better idea of how land-based casinos are distributed throughout Mexico, here is a visual representation of the number of land-based casinos by state (Pic. 1).

According to Statista.com, as of August 2022, the state of Baja California had a total of 44 casinos, making it the Mexican state with the highest number of gambling establishments. Next on the list was Nuevo León, followed by Mexico City, Jalisco, and Sonora.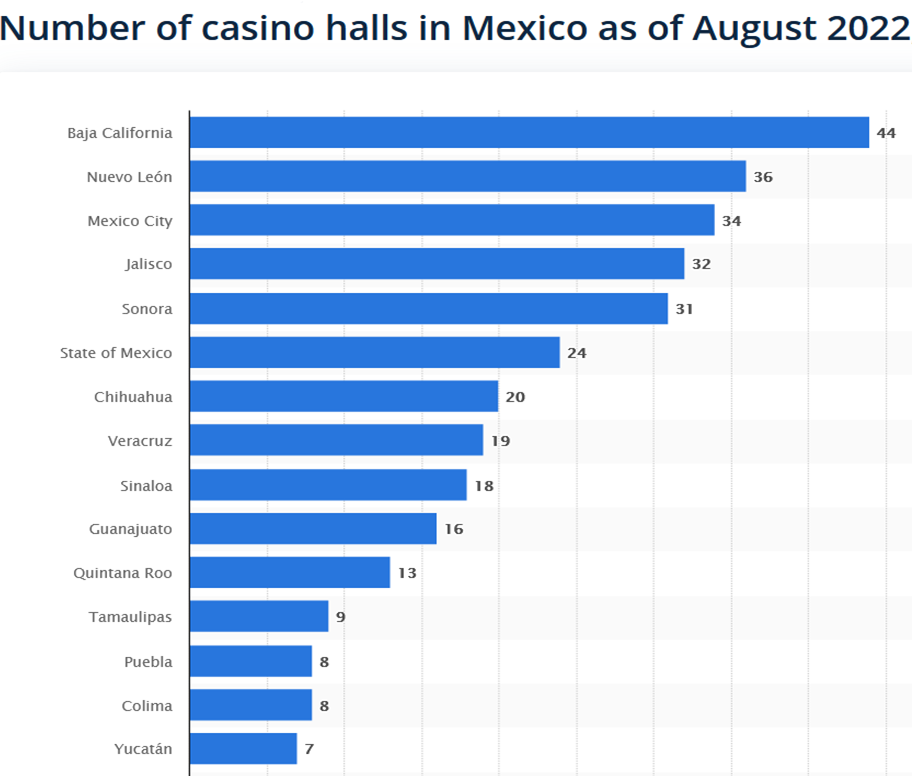 Pic. 1
As of August 2022, Mexico had a total of 377 operational casino halls and a total of 36 licenses for the casino industry. According to some estimates, the land-based casino industry in Mexico was directly responsible for the creation of approximately 50,000 jobs. If we include the indirect contribution, the number jumps to 130 thousand.
Since March 2022, Mexico's unemployment rate has been climbing steadily, and it reached 3.53 percent in August 2022. In September 2022, the unemployment rate in Mexico fell to 3.3 percent, down from 4.2 percent of the previous year.
The number of people with jobs rose by 2.4 million, bringing the total to 57.5 million, while the number of people without jobs fell by 0.42 million, bringing it down to 2.0 million.
It may be safe to assume that gambling makes a significant contribution to the current downward trend in unemployment in Mexico.
Popularity of Sports Betting in Mexico
All games of chance, as is common in Latin America, are widely played in the country, but sports betting attracts an especially enthusiastic following.
While a recent study of the market has found out that sports betting was the most lucrative option in Mexico, it comes as no surprise that iGaming as a whole is bringing in the most money, given that the world is becoming more and more tech-savvy.
The following graph (Pic. 2) extrapolates that sports betting holds half of the online gambling market share which is significantly higher than that of casinos (25% of the total), poker (5%), and bingo with an 8% share.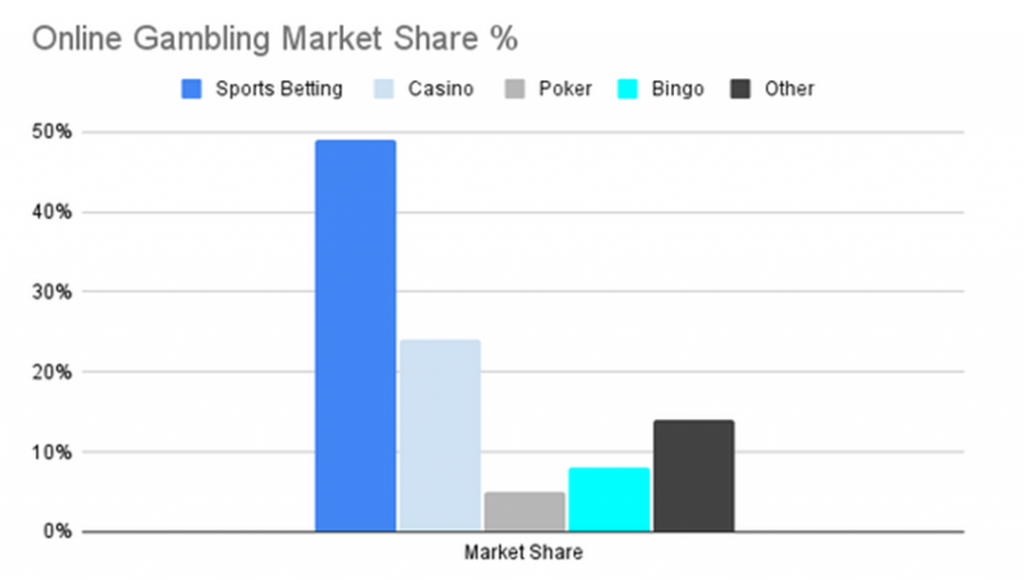 Pic.2
This massive expansion along the nation's betting lines has been confirmed by both public comment and official government statistics. Bets in Mexico have an acceptance rate of around 80%, so they are widely known and accepted by the citizens, making this data one of the most impressive we've seen.
To round out this information, we are also considering the growth in the average wagering ticket during the 2022 fiscal year, which totaled 650 pesos (approx. $34). This would represent an increase of roughly 60% from the average ticket price in 2021, which was around 400 pesos (approx. $21).
The operators estimate that 10 million players have an active account on a betting site at the moment, which is consistent with the level of acceptance penetration that we mentioned before and demonstrates the robust integration of these games among Mexicans.
The proliferation of wireless connectivity and the development of digital infrastructure are the primary forces propelling the growth of the sports betting market in Mexico. It is estimated that there are approximately 6.3 billion smartphone users across the globe, and this number continues to rise each year.
Almost 75% of the Mexican population used a mobile device to go online in 2022. By the year 2026, experts predict that this number will have risen to 86.54%. According to forecasts, nearly 9 in 10 mobile users in the country will have mobile internet access by 2027.
In addition, the demand for products and services provided by the sports betting industry is expanding along with the expansion of the number of athletic competitions and leagues.
The most common types of wagers, as seen in Pic.3, are placed on sports such as soccer, football, boxing, and basketball. Among other most bet-on sports, Mexicans favor baseball, wrestling, and auto racing. Bets are also placed on non-athletic events like eSports and horse racing under the umbrella of sports betting.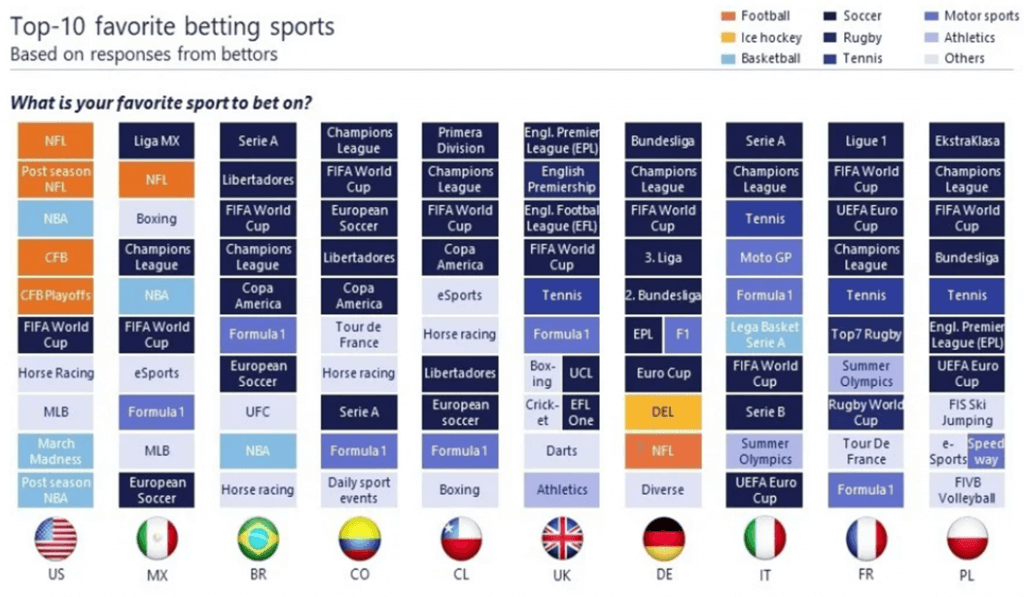 Pic.3
Focusing on the most popular gambling apps, Caliente is in the lead in Mexico. Their app topped the charts in 3Q2022 in Mexico, averaging a position of 3 categories (average daily download rank, sports category apps – free, iPhone).
Bet365 and Codere apps take second and third place, respectively (Pic. 4).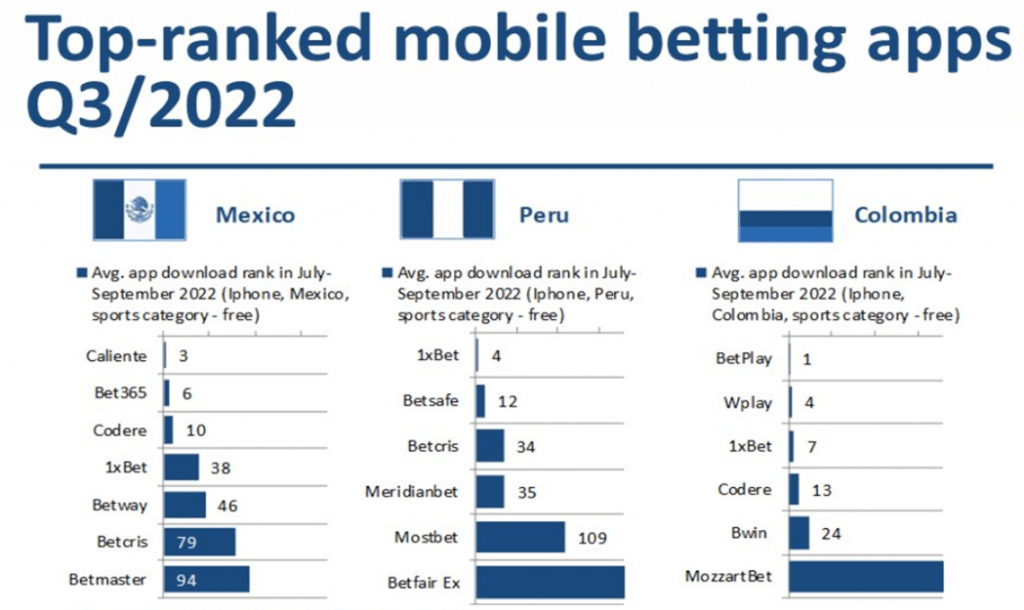 Pic. 4
It's natural to assume that a country of Mexico's size would see a more even distribution of the gaming market among a number of different companies, but Caliente has proven time and again to be the clear market leader in Mexico.
The company not only has a dominant position in the local gambling market, but also holds that position in the sponsorship sector of a league that is regarded as the second most valuable on a continental level, trailing only Brazil's 'Brasileirao'. Fourteen of the 18 Liga MX teams have the brand of the gambling giant displayed on their jerseys.
It is not a matter of pure chance that Caliente has reached this unprecedented milestone; rather, it is the product of a marketing team that has meticulously planned and defined a roadmap in order to grow a sustainable brand.
As well, an increase in the number of investments made in online platforms has contributed to the growth of the sports betting market in Mexico as internet usage has become more widespread. Sports bettors are able to monitor their wagering activities in real time using any device that is connected to the internet when using online platforms.
Latest Statistics on Gambling Website Traffic in Mexico
In September 2022, nearly 257.3M monthly visits went to caliente.mx, making it the most popular gambling website in Mexico (Pic. 8). As a comparison, bet365.mx, which ranked second, saw 11.6M visits during the same time frame. codere.mx fared similarly well, attracting almost 6.3M unique visitors.
Pageviews per session is a measure of how many pages a user views during a single session on a website. Gambling reviewer Covers.com has the highest average number of pages viewed by a visitor (5.39).
An approximation of the typical bounce rate, or the percentage of users who leave the site after viewing only a single page shows that the highest percentage of visitors who immediately leave a website is 100 percent for superenalotto.net, while the average for these top 10 popular gambling platforms is a much more reasonable 62.59% (Pic.5).
Pic.5
2Q2022 ended for Caliente Casino with a steady-going interest rate, which was kept within the popularity score of 25-50 out of 100 (Pic. 6). The beginning of 3Q2022 was characterized by a pronounced increase in the popularity of the search for 'caliente casino' keyword.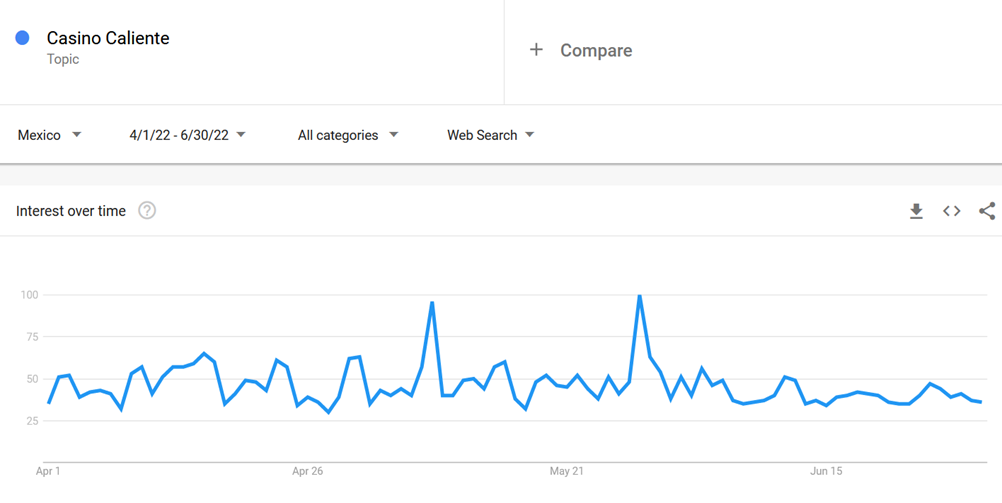 Pic. 6
Further demand for the term stood out for its volatility and sporadic spikes from an all-time low to an all-time high (Pic. 7).
The high volatility of the term's search interest indicates a positive returning of the visitor rate meaning that users choose the site time and again. Caliente.mx was and still is the largest and most popular online operator in Mexico, which is dedicated to providing real gaming enthusiasts with a broad range of entertainment experiences across its full spectrum of offerings, including slot games, sports betting, and a live casino.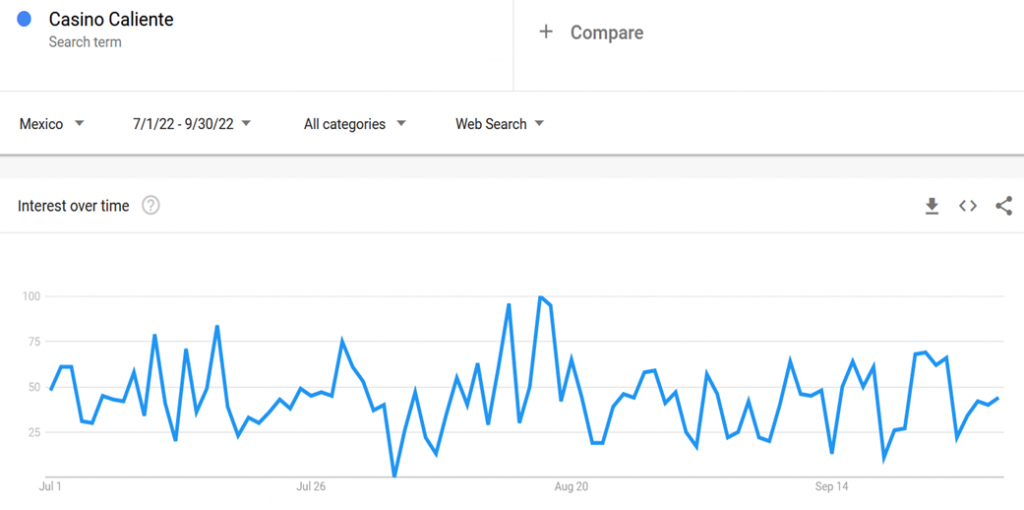 Pic. 7
The Mexican eSports Market on the Rise
Despite the fact that playing video games is still considered a hobby by many people, the industry surrounding this activity is showing signs of significant growth.
Currently, Mexico is among the top 10 biggest markets for video games, along with the United States, four Asian, three European countries and Russia (Pic.8).
According to the findings of the Statista Digital Market Outlook, the video gaming industry is currently one of the most well-liked and lucrative businesses in the entire world, with a global revenue expected to be about $200 billion by the end of 2022.
Mobile games currently account for approximately 70% of the total revenue generated by the video game industry across the globe. In Mexico, this share was even higher at 74%.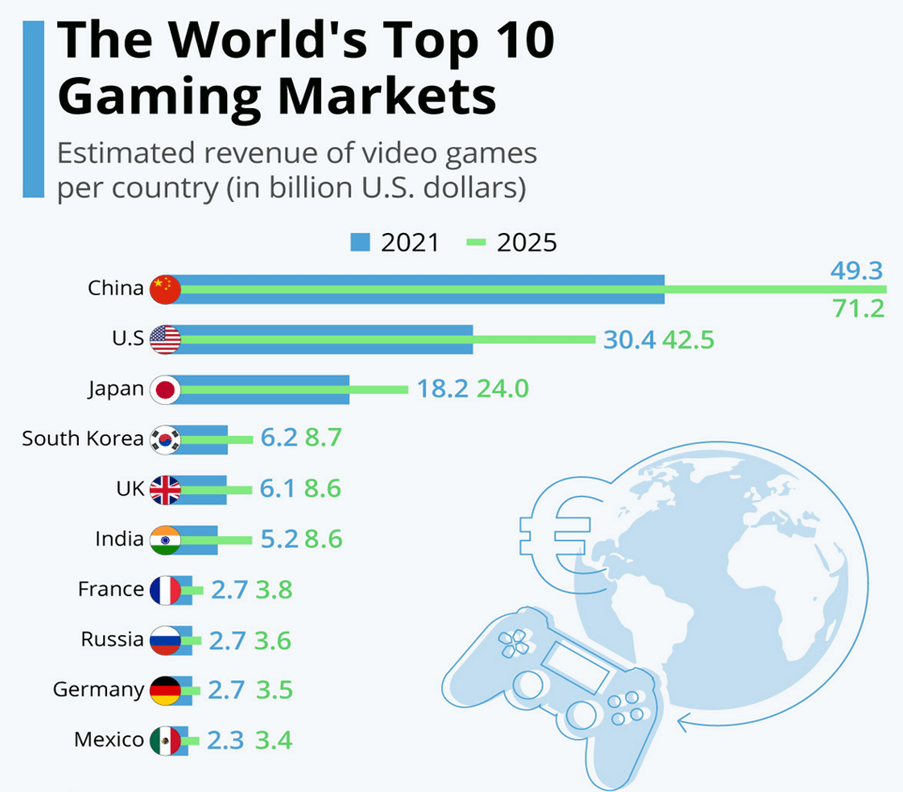 Pic. 8
The Mexican National Commission for Physical Culture and Sports (CONADE) officially recognized eSports as a sport in 2019, giving their endorsement to the Mexican eSports Federation (FEMES).
In 2020, it was reported that a total of 8.4 million Mexican gamers had taken part in eSports tournaments, and that as many as 11 million had followed such events online: eSports stood out among other activities during the coronavirus outbreak because it offered the Liga MX Clausura 2020 a second chance. The final phase matches of the championship were held virtually after the cancellation of its physical format. This attracted more than 4.9 million Mexican online viewers.
If this market expands at the anticipated rate, the value of the eSports market in Mexico is expected to reach approximately 21.8 billion US dollars by the year of 2024.
Factors Contributing to eSports Popularity in Mexico
In an effort to explain why Mexico is becoming an emerging major market for eSports, it is crucial to notice that the country has enormous opportunities for expansion in comparison to other countries that are further along in their development.
According to our findings, what's really driving the growth of eSports in Mexico is the size of its population, its close proximity to the United States geographically, and the fact that it is home to the regional headquarters of several major video game companies, including Riot Games and Ubisoft.
Riot Games, based in Mexico, is responsible for the regional coordination of two of the most important competitions held anywhere in the world: League of Legends and Valorant.
Rainbow Six Siege is a competitive video game that is played in Spanish throughout Latin America and is managed by Ubisoft in Mexico. Mexico and South America both have their own championships for the game.
As a location for international business operations, Mexico is an excellent choice. It is one of the countries in Latin America that is simple to enter and generate projects.
It is also essential to emphasize the economic stability of the currency in comparison to other currencies. In addition to playing host to an annual international competition known as a Six Major, this nation is also the only one in the Spanish-speaking region of Latin America to have its very own Rainbow Six Siege League.
The scene in Mexico that was established in 2018 prevented South America from falling behind in terms of its competitive level compared to Brazil, which coordinates separately from South America due to the fact that it speaks Portuguese. Not only do the major video game developers consider Mexico to be the capital of eSports in Latin America, but also the operators of major competitions like the Liga de Videojuegos Profesional (LVP) and GGTech consider it to be their most important market outside of Spain, where they are originally from.
Potential for the iGaming Industry in Mexico
Mexico is widely regarded as fertile ground for new and expanding online casino and sportsbook operators, what with its 130+ million people, estimated mobile penetration rate of 80%, and second-strongest economy in Latin America. Therefore, Mexico, with favorable regulations on the horizon, anticipates phenomenal growth in the near future.
The iGaming industry in Mexico has been subjected to turbulent times up until the year 2021, with the industry experiencing both a gradual rise and a significant downfall in the year 2020. All land-based casinos across the country ceased operations in the year 2020. By the end of that year, approximately 60% were back in business. However, because of the second pandemic wave that struck Mexico, they were forced to close once more.
It wasn't until March 2021 that the industry began to experience even a semblance of a recovery. All gambling establishments had reopened by the end of 2021, with a national average capacity of 66% and almost the exact same working hours as before the pandemic.
As confirmed by the statistics, there is a brighter future ahead. With 2022's fourth quarter coming to a close, the gambling market revenue in Mexico is anticipated to experience a gradual increase until as late as 2026.